Two Tucson veterans recall harrowing experiences on June 6, 1944
As nations are honoring the military personnel who valiantly fought during the Normandy invasion 75 years ago, Tucson veterans James M. Adney and Al Arreola shared their own harrowing experiences from that day, memories which they say they will never forget.
Adney, now 96, was a private first class with a gilder infantry unit of the Army's 101st Airborne Division. Because of unforeseen circumstances he arrived on Omaha Beach by ship in the first wave. He survived "bloody Omaha" and made it into Holland, fought in the Battle of the Bulge in Belgium, and raced into Hitler's Eagle's Nest retreat in the Berchtesgaden in the Alps.
"There were a lot of dead in the water," Adney recalled as he was among the first soldiers to get out of the landing craft to face withering German fire. "It was a hell of a mess. We faced machine gun fire before we could get out of the water. You wanted to make it to shore. That was the only thing you worried about. The water was bloody red," he said.
Arreola, 95, was a staff sergeant and ball turret machine-gunner on the B-17 Flying Fortress named "The Latest Rumor" with the Eighth Air Force 351st Bomb Squadron. It was part of a cadre of four bomb squadrons known as the "Bloody 100th" for the high number of aircraft and crews lost during a single mission.
"I am lucky to be alive," said Arreola, who already was a veteran of 20 bombing raids by the time he took off for France on D-Day. He gave much credit for his survival to pilot 2nd Lt. Kenneth J. Dille for his skill during the missions, which included many planes shot down with no survivors.
When he returned last year to Normandy, Arreola paid respects to soldiers buried there: "I felt pain. The youngest buried was 16 years old. I was fortunate I did not end up there," he said.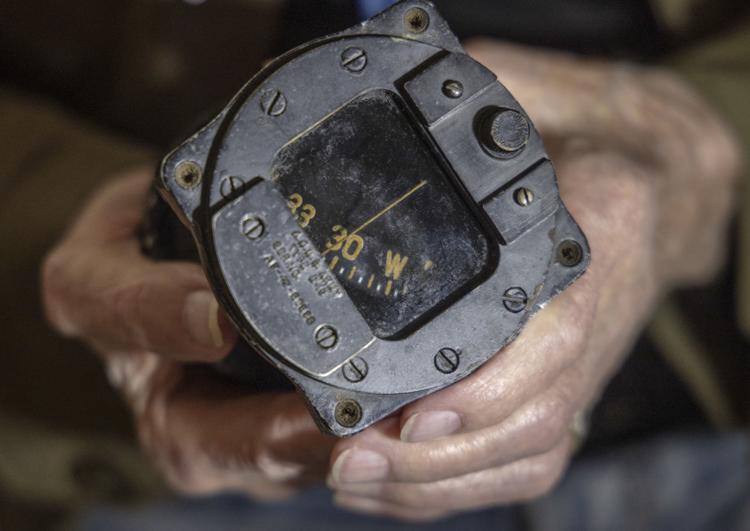 James M. Adney holds the compass from the glider he piloted into Eindhoven, Holland on September 12, 1944. He was a member the 101st Airborne Division in World War II.
Ron Medvescek / Arizona Daily Star
Army Pfc. James M. Adney
On D-Day at about 3 in the morning through the mist and fog, Adney and the other troops of the 101st Airborne Division — the Screaming Eagles — marched down cobblestone back streets in Liverpool, England, and boarded a military ship heading across the English Channel toward the Normandy coast.
Adney was heading to Omaha Beach as a member of Easy Company 1st Battery of the 327th Glider Infantry. "It was stormy and raining that day," recalled Adney, sitting in the living room of his east-side home where he lives with his daughter.
His march to this historic battle began a year earlier.
Enlistment
At 18, Adney enlisted in the Army in March 1943. He described himself as a "country boy" who wasn't fearful of anything while growing up in Georgetown, Pennsylvania, a small town near the Ohio River. Three older siblings had enlisted — two sisters in the Women's Army Auxiliary Corps and a brother in the Coast Guard.
Adney went to basic training at Fort Leonard Wood, Missouri, returning home to marry girlfriend Mary Alice McHaffie, then leaving for Springfield, Missouri, for advanced combat training. He boarded an ocean liner in January 1944 heading from New York to Cromar, Ireland. Adney remembers standing on deck and giving a salute while passing the Statue of Liberty. "We didn't know if we were coming back or not," he recalled. He didn't know then he wouldn't see his wife for two years.
While receiving pre-invasion training for D-Day, the soldiers camped at an airport near Liverpool. "We were climbing up and going down the ropes, learning how to get off the ship when it was time to get into a landing craft."
"We also learned hand-to-hand combat," he said, remembering the commands of drill instructors: "'They are the enemy. You do anything to save your life.'"
Omaha Beach, June 6 1944
Adney said he was among the first wave of soldiers landing on the Normandy coast:
"I was in the first landing craft and the third soldier out," said Adney, recalling the water up to his neck and the heavy backpack filled with supplies that weighed him down. "I wanted to get to the beach, so I took it off," recalling that he held on to his M1 rifle, four grenades and four ammunition belts.
"We were instructed to 'watch out for your own ass. Take care of yourself. Keep going. Someone else behind you will pick up the wounded. You keep on going," he said.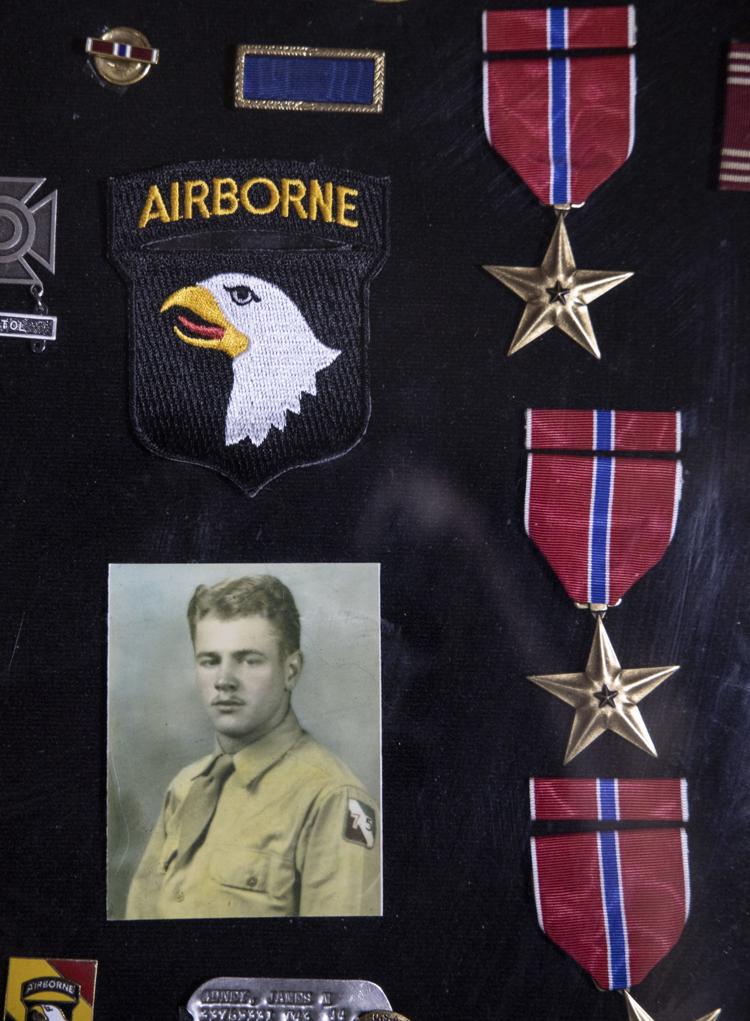 James M. Adney's collection of medals from WWII at his home in Tucson, AZ on May 16, 2019. Include two of his four Bronze Stars, his Airborne patch and a photo of himself.
Ron Medvescek / Arizona Daily Star
"Ships were firing rockets. Planes were dropping bombs. The Germans were shooting machine gunfire out of the bunkers. The whole beach was fortified," Adney said. He remembers running, and crawling on his belly and taking hours for him to "get the hell off the beach," following the orders of his commanding officer Maj. Gen. Maxwell Taylor.
Most of Adney's squad survived the beach that day. He and others battled Germans in bunkers, throwing grenades and killing the enemy into the night. Some 2,000 troops died on Omaha Beach, according to historical records.
"Sometimes I think about the ones who died," said Adney, reflecting that it just wasn't his time. "I never got wounded. I heard bullets whizzing by me, but I never got struck by gunfire or mortars or bombs. I left my nerves on the beach."
After Omaha, the troops camped in the countryside and headed to the town of Carentan and battled there with German troops.
In September, Adney glided into Eindhoven, Holland, to participate in Operation Market Garden, the airborne assault that helped liberate several Dutch towns while failing its main objective to capture a crucial bridge from the Germans over the Rhine River in Arnhem.
In December, he arrived in Bastogne, Belgium, and remembers the bad weather and waiting for air drops of supplies while freezing in a foxhole during the Battle of the Bulge. Christmas dinner was cheese, crackers and a frozen Hershey chocolate bar, which Adney shared with his foxhole buddy. "In the 'black forest,' we were shelled every day and some soldiers were killed from shards of flying wood from the pine trees.
"We all suffered from frozen hands, feet and went days without food, but those of us who were lucky to survive lived on to fight another day," said Adney, the skin on his feet still crack and bleed during cold weather because of poor circulation.
"On May 5, my unit took part in the siege at Hitler's Eagle's Nest at Berchtesgaden," he said of the retreat in the Bavarian Alps. "We then settled into camp in Reims, France, awaiting orders to ship out to Japan. Before my order arrived the war ended."
The decorated veteran's medals include four Bronze Stars, a Silver Star, a Bronze Arrowhead, and a World War II Victory medallion.
After his honorable discharge in 1945, he returned to Pennsylvania to his wife, and went to work for a steel plant for 41 years, retiring in 1981. The couple were married for 70 years, and after her death in 2013, Adney moved to Tucson to be with his daughter.
Both went to Normandy for the 45th and 60th anniversaries, traveling to Caen for the opening of the Caen Memorial Museum during the 45th commemoration. Adney set foot on all the beaches in the operation, bringing back sand from Omaha Beach that sits in a memorabilia jar on his nightstand.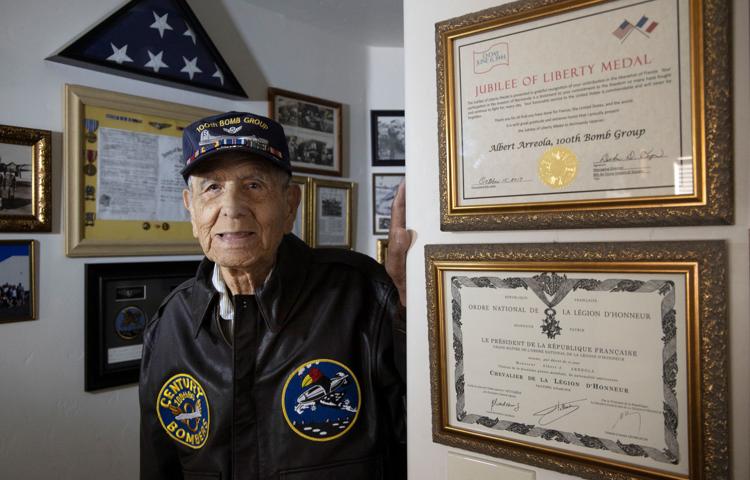 Al Arreola stands among his memorabilia from WWII in the living room of his home north of Tucson, AZ on May 17, 2019. He was a ball turret gunner on a B-17 Flying Fortress with the 351st Bomb Squadron — that was part of a cadre of four bomb squadrons known as the Bloody 100th for the high number of aircraft and crews lost during a single mission. Arreola's bomber was The Latest Rumor, a name Arreola suggested. He flew 35 bombing missions over France, Germany, Belgium, Poland and Romania from April to July 1944. On D-Day, his aircraft's target was Caen, France.
Ron Medvescek / Arizona Daily Star
Army Air Force Staff Sgt. Al Arreola
At 10 at night June 5, 1944, Arreola was awaken to prepare equipment for "our raid over the invasion coast" the following morning on D-Day.
At age 20, D-Day was Arreola's 21st raid, leaving Thorpe Abbotts Airfield in Norfolk, England, to bomb "enemy installations along the French coast."
The average lifespan of a heavy bomber crew was 11 missions in the 100th Bomb Group, but Arreola was among a crew that was assigned 35 bombing raids over France, Germany, Belgium, Poland and Romania from April to July 1944. Many of the raids were to destroy Germany's war industry — ball-bearing factories, synthetic oil refineries, submarine pens and railroad yards.
Drafted at 18
Arreola, a native of San Leandro, California, was drafted in February 1943 into the Army Air Forces at age 18. He had two older brothers serving — one also in the Army Air Forces and the other a Merchant Marine. Arreola attended basic training in Fresno, California, and received gunnery training in Tyndall Field in Panama City, Florida, followed by flight and aerial gunnery training at Pyote Army Air Field in Texas.
In early 1944, Arreola and his crew picked up a new B-17 in Omaha, Nebraska, and flew the northern route to the United Kingdom for combat.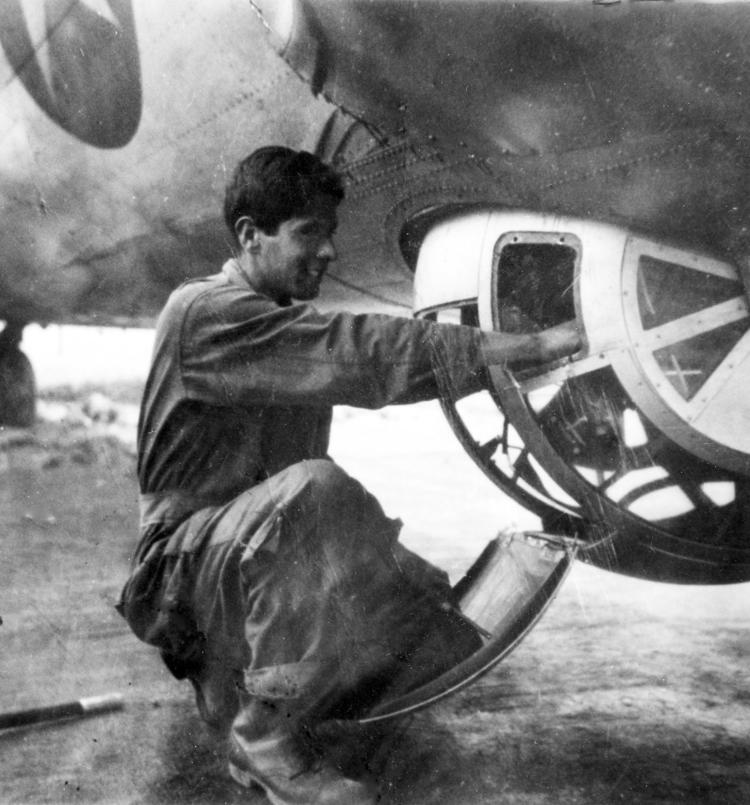 Al Arreola, who served in the U.S. Army Air Forces in the WWII, cleans the ball turret he manned aboard a B-17 at Thorpe Abbotts airfield in England, 1944, He was a ball turret gunner on a B-17 Flying Fortress with the 351st Bomb Squadron.
Courtesy of Al Arreola
Thorpe Abbotts Airfield, June 6, 1944
"On D-Day, we were one of the first groups over there," said Arreola, explaining their mission was to go to Caen to destroy the ability of the Germans to send reinforcements to the beach. The 95-year-old sat at his dining table in his home, next to his son's house on Tucson's northwest side, recalling the day.
"We took off at pre-dawn. We were one of thousands of planes flying to Caen and elsewhere to support the landing of our troops. We saw ample rockets and just a little flak. Visibility was very poor. It was overcast so we couldn't see the invasion barges," said Arreola. In his diary, he wrote that "many different targets have been hit along the coast so far, and it is claimed that all day today, there will be at least 10,000 planes over the invasion coast."
The squadron bombed Caen "a few minutes before the land invasion." The British and American forces flattened towns and villages in hopes of knocking out bridges over the Orne River.
Arreola said the mission "was dramatic because it was D-Day, and it happened so fast. We were glad to get back to the base," said the gunner who sat cramped in the ball turret underneath the plane for hours on missions. Arreola's assignment was one of the most dangerous during the war.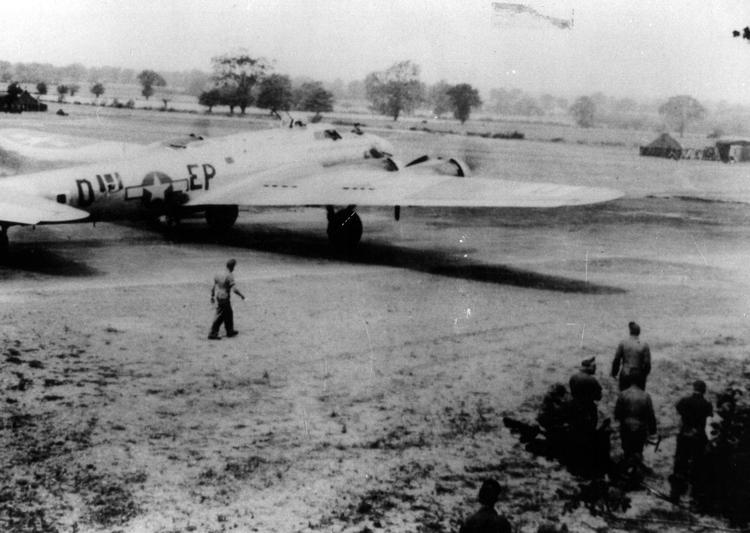 Al Arreola's Boeing B-17 bomber, "The Latest Rumor," at Thorpe Abbotts Airfield in England, 1944. He was a ball turret gunner on a B-17 Flying Fortress with the 351st Bomb Squadron — that was part of a cadre of four bomb squadrons known as the Bloody 100th for the high number of aircraft and crews lost during a single mission.
Courtesy of Al Arreola
The war after D-Day
"Then D-Day 1 (June 7), we had another bombing run to Nantes, France," said the gunner. Five days later, Arreola was on a raid to bomb an airfield, and were hoping to draw out the Luftwaffe — the German air force. "No Luftwaffe appeared, and we couldn't bomb the airport. We ran into ample flak, which was very, very accurate. We got many holes in the plane.
"This is the first time that I learned to fear flak. We had hits in the nose, wing, waist and tail sections. One plane was blown up by flak over the French coast. We dropped our bombs on Dunkirk. Five chutes came out of the plane that exploded. This was one of our worst missions," wrote Arreola in his diary.
The bombings continued in the northwest part of Germany, and Arreola saw one plane catch on fire about 100 miles from the English coast and eight parachuted out of the plane.
"I prayed to get home alive, and I made up my mind that I wasn't going to dream about the missions so I wouldn't have nightmares," said Arreola.
After completing his missions in 1944 — the last to St. Lo, France, Arreola became an honorary member of "The Lucky Bastards Club." Among his decorations are the Distinguished Flying Cross, four Air Medals with oak leaf clusters, the Army Presidential Unit Citation, the American Campaign Medal with one combat star, the World War II Victory Medal and the Legion of Honor Medal from France for his distinguished service.
He returned to California and was honorably discharged in 1945, marrying Utahna Lester a year later. The couple lived in Agoura, California, and Arreola worked for the state's highway department operating heavy equipment for 36 years, retiring in 1983. His wife died shortly before the couple celebrated their 60th wedding anniversary in 2006.
Last July, Arreola went with his son and family to Normandy, visiting the beaches, the Normandy American Cemetery and Memorial and the military base, which is now the 100th Bomb Group Memorial Museum. Many of the war-time structures were gone.
Arreola said among his favorite activities was being questioned by middle-school students from Yorkshire, England, about his military service and his missions as a turret gunner. He told the students his scariest missions were five — all to Berlin.