Here are opportunities to observe some amazing hawks in the wild
A Hawk Watch event near Tubac — held every day in March — is an opportunity for avid birdwatchers and novices alike to spot rare hawks as they migrate along the Santa Cruz River.
Raptors observed include black hawks, zone-tailed hawks and gray hawks. The public is welcome to take part at Ron Morriss Park near Tubac between 9 a.m. and early afternoon every day for the rest of March.
The free event, which has been held for seven years in the park, has become quite popular, said Peter Collins, Hawk Watch coordinator.
"We'll probably have 1,500 to 2,000 people in all this year," Collins said, noting that attendance is especially high on days with good weather.
"People should bring binoculars, a folding chair, sunscreen and water," Collins advised.
A similar event is being held this weekend at the Historic Canoa Ranch in Green Valley. Visitors can join bird enthusiast Brian Nicholas to spot migrating raptors. (See box)
Common Black Hawk
Courtesy of Ned Harris
Collins said black hawks, known in birding guidebooks as common black hawks, and zone-tailed hawks are often seen migrating north along the river.
Those species and the gray hawks observed in the area are considered "fairly rare," Collins said.
"I'm at the park from 8 a.m. to 1 p.m." to offer guidance for people seeking to spot hawks, he said.
John O'Neill, who writes about birds for a Tubac publication, described a typical scene at Hawk Watch: "Sometimes as many as 100 birders raise binoculars in unison for a sighting of the rare hawks or other raptors like golden eagles or peregrine falcons."
Event organizers said directions to the park are best obtained from online sites or Tubac residents.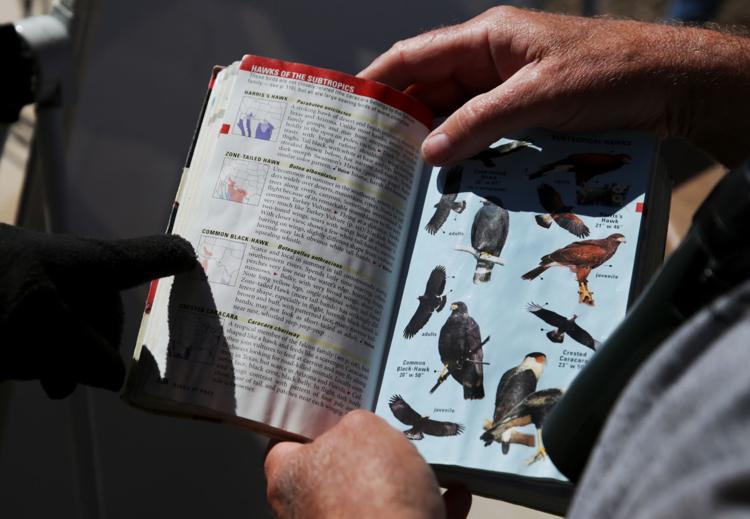 Birders looks up the migratory details of hawks while on the lookout for the Common Black Hawk at Historic Canoa Ranch, 5375 S. I-19 Frontage Road, March 13, 2019, in Green Valley, Ariz. Visitors can join bird enthusiast Brian Nicholas to spot migrating raptors and hawks including peregrine falcons, red-tailed hawks, Northern Harrier Hawks and Common Black Hawks, whose migration in Arizona reaches its peak in mid-March. Nicholas will be at the Canoa Lake from 9 a.m. to noon Friday and 9:30 a.m. to noon Saturday. Nicholas leads a bird walk at the ranch every Saturday from 7:30 a.m. to 9:30 a.m. for a $5 fee.
Mike Christy / Arizona Daily Star