Arizona Election Results Roundup
Roundup of Arizona election results: 
Outmatched in funding and outmaneuvered, Democratic gubernatorial hopeful David Garcia failed Tuesday in his bid to oust incumbent Doug Ducey.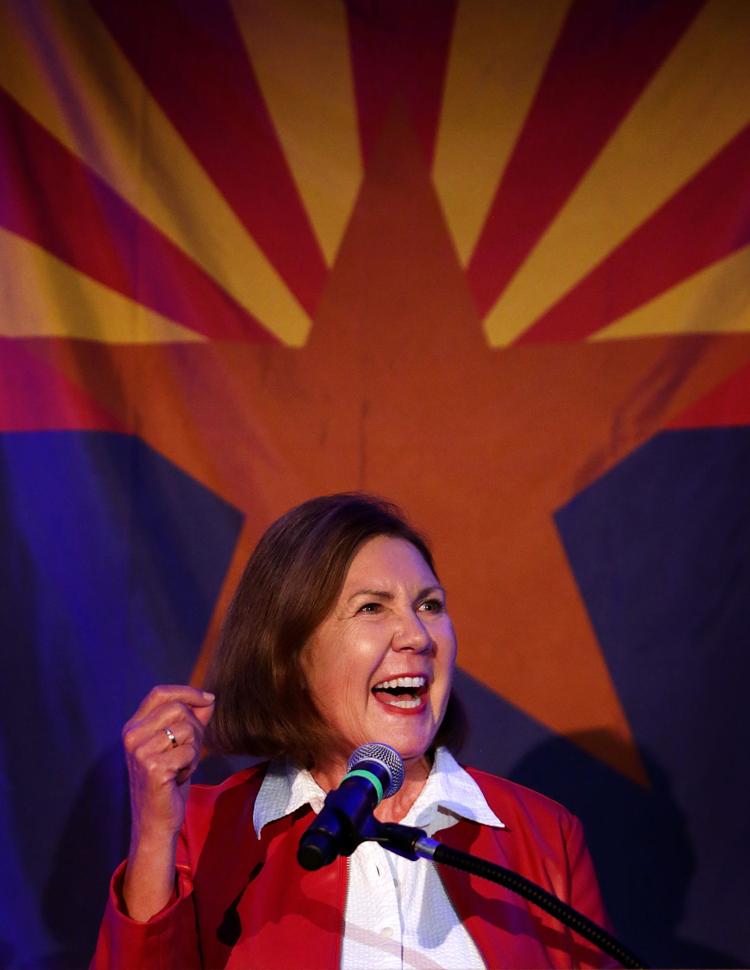 Democrat Ann Kirkpatrick, candidate for Congressional District 2, gives a victory speech during the Pima County Democratic Party Election Night watch party at the DoubleTree by Hilton Hotel Tucson, 445 S. Alvernon Way, Nov. 6, 2018, in Tucson, Ariz.
Mike Christy / Arizona Daily Star
Congressional Districts 
In sprawling Congressional District 1, Democratic incumbent Tom O'Halleran was ahead of his Republican rival, Wendy Rogers, according to early results Tuesday.
On Tuesday night, early results had Kirkpatrick with 55 percent of the vote compared to 45 percent for Lea Marquez Peterson, who lead the Tucson Hispanic Chamber of Commerce.
Southern Arizona voters have given Rep. Raúl Grijalva — one of the biggest critics of President Trump — a ninth term in Congress.
FILE – This Feb. 10, 2015 file photo shows Arizona Attorney General Mark Brnovich speaks at a news conference in front of the State House of Representatives in Phoenix. Brnovich appears to have an advantage over Democratic challenger January Contreras in his Nov. 6 bid for re-election. (John Samora/The Arizona Republic via AP, File)
John Samora
Incumbent Mark Brnovich won what should have been a race about who would be the best lawyer for the state which ultimately devolved into a mudfest of charges of corruption.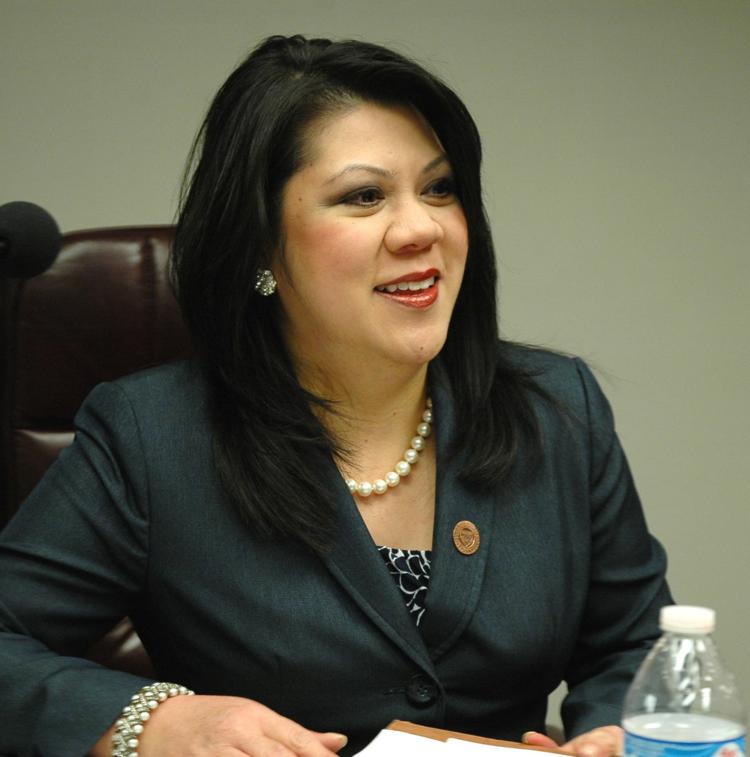 Sen. Kimberly Yee
Arizona Treasurer 
Republican State Sen. Yee apparently won the race for treasurer against Democrat Mark Manoil.
Yee campaigned on her experience in state government while Manoil, whose only other previous political outing was a losing bid for Corporation Commission, touted his background as "a small business owner focused on enforcing property laws."
Justice of the Peace
Republican incumbent Adam Watters had an early lead over Independent Anne Segal Tuesday night, in the heated race for Justice of the Peace in Precinct 1.
Secretary of State
Political newcomer Steve Gaynor won the race for the No. 2 slot in the state — first in line if the governor quits, dies or is impeached.
Republicans won both seats up for grabs for who should serve on the panel that regulates utility rates in the state even as the spat over Proposition 127 spilled into the race.
Republican Justin Olson, appointed last year to the panel, won a full four-year term of his own. He was running as a team with attorney Rodney Glassman after Glassman defeated incumbent Tom Forese.
Both were opposed to the initiative to mandate half of electricity be generated from renewable sources by 2030, saying the standards should be left to the commission.
Tucson's largest school district will likely have a new governing board member on the dais as early votes show newcomer Leila Counts ousting one of two incumbents running to regain two open seats.
In the Marana Unified School District, incumbents Tom Carlson and John Lewandowski have won the two open board seats based on early ballots. As votes came in, Carlson had 40 percent of the vote and Lewandowski had 37 percent. Mark A. Neish received 23 percent.
Propositions 
Voters were supporting amending a section of the Arizona Constitution dealing with pension benefits for state employees. The measure was winning late Tuesday 53 to 47 percent.
Money raised to convince Arizonans to constitutionally bar the Legislature from ever expanding the state's 5.6 percent sales tax to services apparently also paid off, with the measure winning handily.
Proposition 127, which sought a constitutional mandate for most electric companies to generate at least half of their power from renewable sources by 2030, was defeated by Arizona voters, according to early results.
Early results showed voters where handily defeating a bid by Gov. Doug Ducey and Republican lawmakers to allow any of the state's 1.1 million students in public schools to get vouchers of state tax dollars to attend private and parochial schools. The Associated Press and other news outlets declared a loss for the proposition about 9 p.m.
Arizona voters have approved a measure that will limit the authority of the state commission that provides public financing to political candidates and give the governor more oversight over the commission.
Proposition 407, a city-backed plan to spend $225 million on parks and trails over the next 10 years, was prevailing Tuesday night, with 55 percent of the vote.
Early election results showed only 44 percent of voters supported Proposition 463, a $430 million countywide road bond.
Statewide (Arizona)
Precincts reporting – 1,478
Registered voters – 3,716,161
U.S. Senator (Vote for 1)
Statewide
GREEN, ANGELA – 2%; 38,597 votes
MCSALLY, MARTHA – 49%; 850,043 votes
SINEMA, KYRSTEN – 48%; 834,135 votes
BILYEU, SHEILA – 0%; 0 votes
DAVIDA, EDWARD – 0%; 0 votes
DECARLO, MICHAEL – 0%; 0 votes
HESS, BARRY – 0%; 0 votes
KAY, ROBERT – 0%; 0 votes
PEARCE, JEFF – 0%; 0 votes
RINGHAM B, JONATHAN – 0%; 0 votes
U.S. Representative in Congress – District No. 1 (Vote for 1)
Statewide
O'HALLERAN, TOM – 53%; 111,886 votes
ROGERS, WENDY – 47%; 97,958 votes
SHOCK, DAVID – 0%; 0 votes
U.S. Representative in Congress – District No. 2 (Vote for 1)
Statewide
KIRKPATRICK, ANN – 53%; 125,349 votes
MARQUEZ PETERSON, LEA – 47%; 109,759 votes
FLAYER, JORDAN – 0%; 0 votes
GRABLE, MELISSA – 0%; 0 votes
U.S. Representative in Congress – District No. 3 (Vote for 1)
Statewide
GRIJALVA, RAúL – 61%; 78,308 votes
PIERSON, NICOLAS "NICK" – 39%; 49,331 votes
Governor (Vote for 1)
Statewide
DUCEY, DOUG – 58%; 993,573 votes
GARCIA, DAVID – 40%; 690,259 votes
TORRES, ANGEL – 2%; 34,771 votes
ARVIZU, ARTHUR RAY "RT" – 0%; 0 votes
DOLEGO, CARY D. – 0%; 0 votes
GIBSON, JAMES "MARVELMAN", II – 0%; 0 votes
KOMOR, CHRISTIAN – 0%; 0 votes
MASOYA, PATRICK – 0%; 0 votes
Secretary of State (Vote for 1)
Statewide
GAYNOR, STEVE – 51%; 866,510 votes
HOBBS, KATIE – 49%; 823,982 votes
NOVOA, ALICE – 0%; 0 votes
Attorney General (Vote for 1)
Statewide
BRNOVICH, MARK – 53%; 897,611 votes
CONTRERAS, JANUARY – 47%; 784,767 votes
CAMBONI, ANTHONY – 0%; 0 votes
State Treasurer (Vote for 1)
Statewide
MANOIL, MARK – 44%; 740,758 votes
YEE, KIMBERLY – 56%; 928,314 votes
Superintendent of Public Instruction (Vote for 1)
Statewide
HOFFMAN, KATHY – 50%; 830,676 votes
RIGGS, FRANK – 50%; 837,396 votes
HARRIS, MATTHEW – 0%; 0 votes
State Mine Inspector (Vote for 1)
Statewide
HART, JOE – 53%; 875,029 votes
PIERCE, WILLIAM "BILL" – 47%; 766,586 votes
Corporation Commissioner (Vote for 2)
Statewide
GLASSMAN, RODNEY – 26%; 786,546 votes
KENNEDY, SANDRA – 25%; 759,138 votes
OLSON, JUSTIN – 26%; 788,847 votes
SEARS, KIANA MARIA – 23%; 704,418 votes
DESANTI, NEIL – 0%; 0 votes
Proposition 125 – Adjustments to Elected Officials' and Corrections Officer's Retirement Plans
Statewide
NO – 48.3%; 765,575 votes
YES – 51.7%; 819,805 votes
Proposition 126 – Prohibit New or Increased Taxes on Services
Statewide
YES – 65%; 1,058,876 votes
Proposition 127 – Renewable Energy Standards
Statewide
NO – 70%; 1,163,025 votes
Proposition 305 – Expansion of Empowerment Scholarship Accounts Referendum
Statewide
NO – 65%; 1,057,816 votes
Proposition 306 – Clean Election Account Uses and Commission Rulemaking
Statewide
State Senator – District No. 2 (Vote for 1)
Statewide
DALESSANDRO, ANDREA – 58%; 28,320 votes
KAIS, SHELLEY – 42%; 20,637 votes
State Senator – District No. 3 (Vote for 1)
Statewide
GONZALES, SALLY ANN – 100.0%; 31,550 votes
State Senator – District No. 4 (Vote for 1)
Statewide
OTONDO, LISA – 100%; 24,177 votes
CONTRERAZ, JULIAN – 0%; 0 votes
State Senator – District No. 9 (Vote for 1)
Statewide
FLEENOR, RANDY – 38%; 28,049 votes
STEELE, VICTORIA – 62%; 45,067 votes
State Senator – District No. 10 (Vote for 1)
Statewide
BRADLEY, DAVID – 57%; 40,189 votes
WILES, MARILYN – 43%; 30,221 votes
State Senator – District No. 11 (Vote for 1)
Statewide
ARIF, MOHAMMAD – 1%; 700 votes
ATCHUE, RALPH – 43%; 31,130 votes
LEACH, VENDEN "VINCE" – 56%; 39,960 votes
State Senator – District No. 14 (Vote for 1)
Statewide
ALVAREZ, JAIME – 39%; 26,414 votes
GOWAN, DAVID – 61%; 41,673 votes
State Representative – District No. 2 (Vote for 2)
Statewide
ACKERLEY, JOHN CHRISTOPHER – 22%; 18,256 votes
GABALDóN, ROSANNA – 28%; 23,795 votes
HERNANDEZ, DANIEL, JR – 28%; 23,683 votes
SIZER, ANTHONY – 21%; 17,979 votes
State Representative – District No. 3 (Vote for 2)
Statewide
BAKER, BERYL – 12%; 6,397 votes
CANO, ANDRES – 42%; 22,255 votes
HERNANDEZ, ALMA – 46%; 24,264 votes
State Representative – District No. 4 (Vote for 2)
Statewide
FERNANDEZ, CHARLENE – 49%; 19,539 votes
PETEN, GERALDINE "GERAE" – 36%; 14,277 votes
WILLIAMS, SARA MAE – 16%; 6,329 votes
State Representative – District No. 9 (Vote for 2)
Statewide
FRIESE, RANDALL "RANDY" – 37%; 38,925 votes
HENDERSON, ANA – 28%; 29,496 votes
POWERS HANNLEY, PAMELA – 36%; 38,129 votes
State Representative – District No. 10 (Vote for 2)
Statewide
CLODFELTER, TODD – 29%; 31,366 votes
DEGRAZIA, DOMINGO – 30%; 33,199 votes
ENGEL, KIRSTEN – 35%; 38,256 votes
REILLY, JOSHUA – 6%; 6,319 votes
State Representative – District No. 11 (Vote for 2)
Statewide
FINCHEM, MARK – 29%; 36,768 votes
LYON, HOLLACE – 22%; 27,754 votes
QUIROZ, MARCELA – 21%; 26,824 votes
ROBERTS, BRET – 29%; 36,669 votes
State Representative – District No. 14 (Vote for 2)
Statewide
GRIFFIN, GAIL – 33%; 40,662 votes
KARP, BOB – 17%; 20,722 votes
NUTT, BECKY – 33%; 40,038 votes
RENNE-LEON, SHELLEY – 18%; 21,689 votes
---
Pima County
Precincts reporting – 245
Registered voters – 557,532
U.S. Senator (Vote for 1)
Pima County
GREEN, ANGELA – 2%; 6,092 votes
MCSALLY, MARTHA – 43%; 129,169 votes
SINEMA, KYRSTEN – 55%; 166,571 votes
BILYEU, SHEILA – 0%; 0 votes
DAVIDA, EDWARD – 0%; 0 votes
DECARLO, MICHAEL – 0%; 0 votes
HESS, BARRY – 0%; 0 votes
KAY, ROBERT – 0%; 0 votes
PEARCE, JEFF – 0%; 0 votes
RINGHAM B, JONATHAN – 0%; 0 votes
U.S. Representative in Congress – District No. 1 (Vote for 1)
Pima County
O'HALLERAN, TOM – 46%; 19,710 votes
ROGERS, WENDY – 54%; 23,524 votes
SHOCK, DAVID – 0%; 0 votes
U.S. Representative in Congress – District No. 2 (Vote for 1)
Pima County
KIRKPATRICK, ANN – 56%; 109,375 votes
MARQUEZ PETERSON, LEA – 44%; 86,387 votes
FLAYER, JORDAN – 0%; 0 votes
GRABLE, MELISSA – 0%; 0 votes
U.S. Representative in Congress – District No. 3 (Vote for 1)
Pima County
GRIJALVA, RAúL – 66%; 38,563 votes
PIERSON, NICOLAS "NICK" – 34%; 19,997 votes
Governor (Vote for 1)
Pima County
DUCEY, DOUG – 50%; 148,900 votes
GARCIA, DAVID – 48%; 145,492 votes
TORRES, ANGEL – 2%; 6,182 votes
ARVIZU, ARTHUR RAY "RT" – 0%; 0 votes
DOLEGO, CARY D. – 0%; 0 votes
GIBSON, JAMES "MARVELMAN", II – 0%; 0 votes
KOMOR, CHRISTIAN – 0%; 0 votes
MASOYA, PATRICK – 0%; 0 votes
Secretary of State (Vote for 1)
Pima County
GAYNOR, STEVE – 42%; 125,737 votes
HOBBS, KATIE – 58%; 170,245 votes
NOVOA, ALICE – 0%; 0 votes
Attorney General (Vote for 1)
Pima County
BRNOVICH, MARK – 43%; 127,408 votes
CONTRERAS, JANUARY – 57%; 167,361 votes
CAMBONI, ANTHONY – 0%; 0 votes
State Treasurer (Vote for 1)
Pima County
MANOIL, MARK – 53%; 155,918 votes
YEE, KIMBERLY – 47%; 137,401 votes
Superintendent of Public Instruction (Vote for 1)
Pima County
HOFFMAN, KATHY – 58%; 170,343 votes
RIGGS, FRANK – 42%; 123,105 votes
HARRIS, MATTHEW – 0%; 0 votes
State Mine Inspector (Vote for 1)
Pima County
HART, JOE – 45%; 131,173 votes
PIERCE, WILLIAM "BILL" – 55%; 160,569 votes
Corporation Commissioner (Vote for 2)
Pima County
GLASSMAN, RODNEY – 21.4%; 113,969 votes
KENNEDY, SANDRA – 29%; 154,865 votes
OLSON, JUSTIN – 21.8%; 116,046 votes
SEARS, KIANA MARIA – 28%; 148,081 votes
DESANTI, NEIL – 0%; 0 votes
Proposition 125 – Adjustments to Elected Officials' and Corrections Officer's Retirement Plans
Pima County
Proposition 126 – Prohibit New or Increased Taxes on Services
Pima County
Proposition 127 – Renewable Energy Standards
Pima County
Proposition 305 – Expansion of Empowerment Scholarship Accounts Referendum
Pima County
Proposition 306 – Clean Election Account Uses and Commission Rulemaking
Pima County
NO – 49.9%; 141,924 votes
YES – 50.1%; 142,397 votes
State Senator – District No. 2 (Vote for 1)
Pima County
DALESSANDRO, ANDREA – 54%; 20,585 votes
KAIS, SHELLEY – 46%; 17,352 votes
State Senator – District No. 3 (Vote for 1)
Pima County
GONZALES, SALLY ANN – 100.0%; 31,550 votes
State Senator – District No. 4 (Vote for 1)
Pima County
OTONDO, LISA – 100%; 4,499 votes
CONTRERAZ, JULIAN – 0%; 0 votes
State Senator – District No. 9 (Vote for 1)
Pima County
FLEENOR, RANDY – 38%; 28,049 votes
STEELE, VICTORIA – 62%; 45,067 votes
State Senator – District No. 10 (Vote for 1)
Pima County
BRADLEY, DAVID – 57%; 40,189 votes
WILES, MARILYN – 43%; 30,221 votes
State Senator – District No. 11 (Vote for 1)
Pima County
ARIF, MOHAMMAD – 1%; 500 votes
ATCHUE, RALPH – 44%; 22,705 votes
LEACH, VENDEN "VINCE" – 55%; 28,021 votes
State Senator – District No. 14 (Vote for 1)
Pima County
ALVAREZ, JAIME – 38%; 6,651 votes
GOWAN, DAVID – 62%; 10,658 votes
State Representative – District No. 2 (Vote for 2)
Pima County
ACKERLEY, JOHN CHRISTOPHER – 23.5%; 15,322 votes
GABALDóN, ROSANNA – 26.4%; 17,241 votes
HERNANDEZ, DANIEL, JR – 26.7%; 17,390 votes
SIZER, ANTHONY – 23.4%; 15,255 votes
State Representative – District No. 3 (Vote for 2)
Pima County
BAKER, BERYL – 12%; 6,397 votes
CANO, ANDRES – 42%; 22,255 votes
HERNANDEZ, ALMA – 46%; 24,264 votes
State Representative – District No. 4 (Vote for 2)
Pima County
FERNANDEZ, CHARLENE – 47%; 3,391 votes
PETEN, GERALDINE "GERAE" – 33.3%; 2,430 votes
WILLIAMS, SARA MAE – 20%; 1,467 votes
State Representative – District No. 9 (Vote for 2)
Pima County
FRIESE, RANDALL "RANDY" – 37%; 38,925 votes
HENDERSON, ANA – 28%; 29,496 votes
POWERS HANNLEY, PAMELA – 36%; 38,129 votes
State Representative – District No. 10 (Vote for 2)
Pima County
CLODFELTER, TODD – 29%; 31,366 votes
DEGRAZIA, DOMINGO – 30%; 33,199 votes
ENGEL, KIRSTEN – 35%; 38,256 votes
REILLY, JOSHUA – 6%; 6,319 votes
State Representative – District No. 11 (Vote for 2)
Pima County
FINCHEM, MARK – 28%; 26,113 votes
LYON, HOLLACE – 22%; 20,619 votes
QUIROZ, MARCELA – 21%; 19,835 votes
ROBERTS, BRET – 28%; 25,771 votes
State Representative – District No. 14 (Vote for 2)
Pima County
GRIFFIN, GAIL – 32%; 10,014 votes
KARP, BOB – 18%; 5,514 votes
NUTT, BECKY – 32%; 9,945 votes
RENNE-LEON, SHELLEY – 18%; 5,702 votes
ALTAR VALLEY ESD, 51 (Vote for 1)
Pima County
HUDECEK, MARTIN F. – 56%; 732 votes
VORIS, GABRIELLE A. – 44%; 574 votes
ARIZONA SUPREME COURT – BOLICK (Vote for 1)
Pima County
ARIZONA SUPREME COURT- PELANDER (Vote for 1)
Pima County
ATTORNEY GENERAL (Vote for 1)
Pima County
CONTRERAS, JANUARY – 57%; 167,361 votes
BRNOVICH, MARK – 43%; 127,408 votes
BABOQUIVARI USD, 40 (Vote for 1)
Pima County
MANUEL, SHARON – 36%; 388 votes
STEVENS, ANNAMARIE – 64%; 698 votes
BOARD MEMBER-GOLDER RANCH FIRE DIST. 12 (Vote for 2)
Pima County
COX GOLDER, VICKI – 46%; 21,651 votes
PESQUEIRA, ALBERT – 29%; 13,408 votes
VETTE, WALLY – 24.9%; 11,636 votes
BOARD MEMBER – MESCAL-J6 FIRE DIST. 20 (Vote for 3)
Pima County
ALLEN, DAWN – 12.3%; 74 votes
BOWEN, MARY J. – 17%; 103 votes
CLARK, MYLES – 13.5%; 81 votes
HUGHES, BRIAN P. – 13.0%; 78 votes
LEE, MARK – 18%; 106 votes
MCMILLAN, MICHAEL "MAC" – 16%; 98 votes
NERVIK, MICHAEL A. – 9%; 57 votes
BOARD MEMBER-RINCON VALLEY FIRE DIST. 15 (Vote for 3)
Pima County
HARRINGTON, MICHELLE – 22%; 2,195 votes
KLASEN, CHRISTOPHER – 22%; 2,136 votes
PORTER-NOTH, DOROTHY – 12%; 1,227 votes
SPEARS, JENNIFER – 25%; 2,486 votes
ZSITVAY, TOM – 18.5%; 1,831 votes
BOARD MEMBER-THREE POINTS FIRE DIST. 21 (Vote for 2)
Pima County
KHALAF, JASON – 23.2%; 500 votes
KNODE, STEPHEN – 31%; 674 votes
WALLACE, LORIE – 45%; 979 votes
CLERK OF THE SUPERIOR COURT (Vote for 1)
Pima County
HARRISON, GARY – 54%; 157,903 votes
HELLON, TONI – 46%; 132,436 votes
COURT OF APPEALS, DIVISION II-ECKERSTROM (Vote for 1)
Pima County
COURT OF APPEALS, DIVISION II – STARING (Vote for 1)
Pima County
COURT OF APPEALS DIVISION II – ESPINOSA (Vote for 1)
Pima County
GOVERNING BOARD, ALTAR VALLEY ESD, 51 (Vote for 2)
Pima County
GARRISON, CAROLYN – 22%; 503 votes
ISABEL, CHRIS – 28%; 618 votes
PAGE, SHANEE M. – 24%; 548 votes
RITTER, KIMBERLY A. – 25%; 563 votes
GOVERNING BOARD, BABOQUIVARI USD, 40 (Vote for 3)
Pima County
BUENDIA, JUAN C. – 15.5%; 412 votes
BUSTAMANTE, ELLIOTT H. – 11%; 302 votes
HENDRICKS, SYLVIA A. – 19%; 506 votes
JOHNSON, LOUIS L. – 14.0%; 372 votes
SEGUNDO, R. VIVIAN – 13.0%; 347 votes
VANCE, KATHLEEN R. – 27%; 713 votes
GOVERNING BOARD, MARANA USD, 6 (Vote for 2)
Pima County
CARLSON, TOM – 39%; 16,416 votes
LEWANDOWSKI, JOHN – 37%; 15,713 votes
NEISH, MARK A. – 23.1%; 9,707 votes
GOVERNING BOARD, TUCSON USD, 1 (Vote for 2)
Pima County
COUNTS, LEILA – 28%; 53,718 votes
GRIJALVA, ADELITA S. – 24%; 46,028 votes
HICKS, MICHAEL – 17.6%; 33,824 votes
RAGAN, ADAM – 17.6%; 33,834 votes
ROBSON, DOUG – 13%; 24,577 votes
GOVERNOR (Vote for 1)
Pima County
GARCIA, DAVID – 48%; 145,492 votes
DUCEY, DOUG – 49%; 148,900 votes
TORRES, ANGEL – 2%; 6,182 votes
MARANA DOMESTIC WATER IMPROVEMENT DISTRICT 2 (Vote for 3)
Pima County
CASTANEDA, LUIS – 18%; 205 votes
EMHOLTZ, GORDON – 25%; 283 votes
GUISE, ALECIA – 27%; 310 votes
MCDAID, H. KATHY – 30%; 348 votes
PIMA COMMUNITY COLLEGE DIST. 3 (Vote for 1)
Pima County
GARCIA, MARIA – 53%; 20,843 votes
MARSHALL, SHERRYN "VIKKI" – 47%; 18,509 votes
PIMA COMMUNITY COLLEGE DIST. 5 (Vote for 1)
Pima County
CHESS MABIE, DEBI – 49%; 16,826 votes
GONZALES, LUIS – 50%; 16,986 votes
PROPOSITION 407 CITY OF TUCSON (Vote for 1)
Pima County
BOND APPROVAL, YES – 54%; 65,579 votes
BOND APPROVAL, NO – 46%; 55,197 votes
PROPOSITION 408 CITY OF TUCSON (Vote for 1)
Pima County
PROPOSITION 463 (Vote for 1)
Pima County
BOND APPROVAL, YES – 43%; 123,630 votes
BOND APPROVAL, NO – 57%; 162,245 votes
PROPOSITION 464 CATALINA FOOTHILLS UNIFIED SCHOOL DIST.16 (Vote for 1)
Pima County
BUDGET OVERRIDE CONTINUATION, YES – 63%; 9,132 votes
BUDGET OVERRIDE CONTINUATION, NO – 37%; 5,326 votes
PROPOSITION 465 ALTAR VALLEY UNIFIED SCHOOL DIST. 51 (Vote for 1)
Pima County
BUDGET OVERRIDE CONTINUATION, YES – 47%; 693 votes
BUDGET OVERRIDE CONTINUATION, NO – 53%; 781 votes
PROPOSITION 466 TANQUE VERDE UNIFIED SCHOOL DIST. 13 (Vote for 1)
Pima County
BUDGET OVERRIDE CONTINUATION, YES – 54%; 3,050 votes
BUDGET OVERRIDE CONTINUATION, NO – 46%; 2,626 votes
PROPOSITION 467 TANQUE VERDE UNIFIED SCHOOL DIST. 13 (Vote for 1)
Pima County
BOND APPROVAL, YES – 48%; 2,713 votes
BOND APPROVAL, NO – 52%; 2,972 votes
PROPOSITION 468 VAIL UNIFIED SCHOOL DIST. 20 (Vote for 1)
Pima County
BOND APPROVAL, YES – 48.4%; 9,685 votes
BOND APPROVAL, NO – 51.6%; 10,331 votes
PROPOSITION 469 TOWN OF SAHUARITA (Vote for 1)
Pima County
PROPOSITION 470 TOWN OF SAHUARITA (Vote for 1)
Pima County
PROPOSITION 471 SAHUARITA UNIFIED SCHOOL DIST. 30 (Vote for 1)
Pima County
BUDGET OVERRIDE CONTINUATION, YES – 55%; 4,291 votes
BUDGET OVERRIDE CONTINUATION, NO – 45%; 3,471 votes
SECRETARY OF STATE (Vote for 1)
Pima County
HOBBS, KATIE – 57%; 170,245 votes
GAYNOR, STEVE – 42%; 125,737 votes
STATE MINE INSPECTOR (Vote for 1)
Pima County
PIERCE, WILLIAM "BILL" – 55%; 160,569 votes
HART, JOE – 45%; 131,173 votes
SUPERINTENDENT OF PUBLIC INSTRUCTION (Vote for 1)
Pima County
HOFFMAN, KATHY – 58%; 170,343 votes
RIGGS, FRANK – 42%; 123,105 votes
TUCSON COUNTRY CLUB ESTATES FIRE DIST. 7 (Vote for 2)
Pima County
FEE, ROBERT – 49%; 293 votes
GADARIAN, GREGORY V. – 49%; 295 votes
Last updated: 11/07/2018 5:49 AM
Data sources: State XML feed | Pima County XML feed