South Tucson kids fight litter with snazzy trash cans
More than a dozen kids spent a recent afternoon under the shade of the John Valenzuela Youth Center's patio in South Tucson, painting trash cans they hope will help fight littering on their neighborhood streets.
The event Aug. 8 was one of the several painting days the Stash the Trash project has organized around South Tucson. They use art to promote environmentally friendly attitudes and pride in the community.
These beautified trash cans – depicting a red sunset over 'A' Mountain, a beach and a monster that eats trash (but isn't Oscar the Grouch) – will soon adorn the streets of South Tucson. It was a collaboration between children from the John Valenzuela Youth Center after-school program, South Tucson Youth Coalition volunteers and UA Public Health students on a service-learning course.
Desiree Lopez, 12, has been involved with South Tucson Youth Coalition and Stash the Trash. She and a friend, Angela Isais, joined the kids Wednesday afternoon to help paint the metal trash cans.
"When we did the trash cans it was super fun and you got to put a lot of art on there," Desiree said. "So it's also like you expressed yourself too. And that's the part that I liked most about it."
Angela, 12, designed the group's poster, an illustration of a city with and without litter.
The project is run by South Tucson Youth Coalition, whose members help the kids paint the trash cans. Coalition members look for issues in the community they can help to improve, and during a camping retreat decided that litter would be the focus, said Kate Meyer, a prevention coordinator for Community Prevention Coalition through PPEP, Inc., who works on Stash the Trash.
"When people are walking down the street, hopefully they see one of the trash cans and throw their trash in there instead of throwing it on the ground," she said. The project is a collaboration between Community Prevention Coalition, South Tucson, the UA College of Humanities, Las Artes, Primavera Foundation and Be Free Pima.
"This particular project is to help the youth get engaged in some environmental strategy in their community, really trying to help them engage other community members in what kinds of positive imagery do they want to see in art pieces today," Meyer said.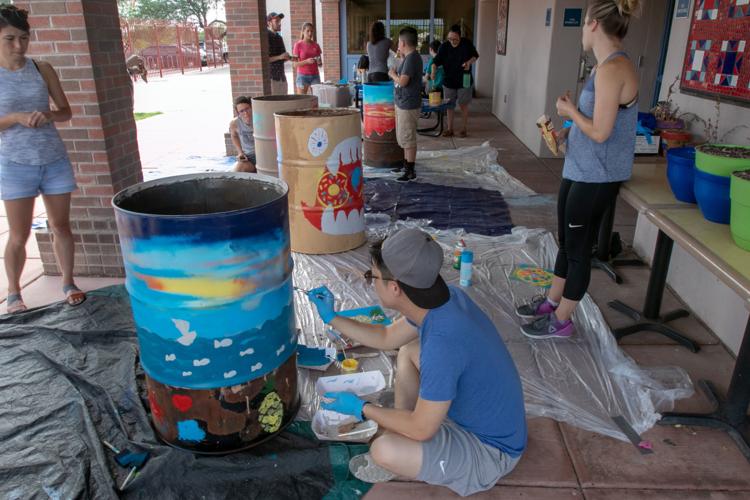 Peter Do, a University of Arizona masters degree student in Public Health works with students and volunteers at John Valenzuela Youth Center painting trash cans on August 8, 2018 in Tucson, AZ. as part of a South Tucson Youth Leadership Council program to encourage people to avoid littering. Do is spending the week working with the kids as part of his Service Learning course.
Ron Medvescek / Arizona Daily Star
"There are leaders there, they care about their community. They are compassionate, they really care about how the rest of Tucson perceives their city and how the people who live there get to experience their environment," Meyer said.
Melo Dominguez is an artist who works with the kids, painting the trash cans and promoting the project.
"What we're doing in both of our intentions is to plant a good positive seed for the community. And not that it hasn't happened before, but we want to reignite and reinforce that there's a little bit of that superhero in everybody," Dominguez said.
"And we want to take that back into their own individual homes and neighborhoods and the community that they serve."